A LOOK AT THE LITTLE-KNOWN ARTISANS OF PRE-REVOLUTIONARY RUSSIA
by Marc Gettemans
Little information about Russia's sporting arms makers of the era of Czars has been written or preserved, and those who attempt to translate what is known from Russian sources must have not only proficiency in the language but also a thorough knowledge of guns and the terminology used to describe them. Although I am from Belgium, my wife, Tatiana, is Russian and I have enjoyed the privilege of hunting with Russian guns in their country of origin on several occasions. With Tatiana's help, and with invaluable assistance from Russian collectors who have become friends, I have researched and learned more about the history of the sporting guns of St. Petersburg, and the gunmakers who built them for the aristocracy in the decades before the Revolution.
N.F. Gonno alias Gonneaud
One of the most notable sporting gunmakers of St. Petersburg in the second half of the 19th Century weapon was N.F. Gonno—he inscribed his guns with the name Gonneaud, an inflection of his name in the French language, which at the time was the official language of many noble families in Russia. Gonno made guns that were not only of excellent quality but were beautifully finished, and they could compete in the local market with those of well-known English makers, even those of James Purdey & Sons, which was at the time widely regarded as the pre-eminent sporting gunmaker in the world. Gonno used best materials for his guns—for example, barrels from England or from renowned Leopold Bernard, the famous barrel maker of France. Locks came from Britain's Joseph Brazier and walnut from America. Although he used some imported components, he would have had the skill to make and finish-out the guns in Russia.
Gonno used best materials for his guns—for example, barrels from England or from renowned Leopold Bernard, the famous barrel maker of France. Locks came from Britain's Joseph Brazier and walnut from America. Although he used some imported components, he would have had the skill to make and finish-out the guns in Russia.
Gonno exhibited in the West at the Paris World Exhibition in 1867 and closely followed important gunmaking innovations. In Paris, he exhibited a breechloading gun made for center-fire cartridges, and at exhibition in Vienna in 1873, a double-barreled center-fire rifle. At the 1886 exhibition of the "Russian Technical Society," it was unanimously agreed that Gonno was the finest gunmaker exhibiting. Research in the archives of the city of St. Petersburg indicates that before 1886 his shop was located on the banks of the Neva River. By the end of the 1880s he was no longer listed in the address book of the city archives. Unfortunately, there are only two of Gonno's guns preserved in the State History Museum in Moscow; both are breechloading center-fire shotguns, and one of them is cased with all the usual accessories, as well as two pairs of Damascus barrels from Bernard.
Both are 16-gauge hammerguns and were made, respectively, in 1879 and 1881, and were engraved in the English style. The gun case bears a label with the text "Supplier of the Court of His Imperial Majesty" in French and in Russian and carries the serial number 230. Gonno was a talented and experienced gunmaker, and the Russian arms school in Tula learned that it was possible to produce a first-class weapon with unfinished components imported from Belgium, Britain and France. Gonno thus became a model for Russian sporting gunmakers that came after him.
Franz Osipovitch Matzka
Gonno had a talented successor named Franz Osipovitch Matzka. Though this is his full name, almost every Russian hunter or gun connoisseur knows who this is when you simply mention "Matska." He started his career as an apprentice for Gonno and began his own business in 1883, which he carried on until his death in 1907.
Archives from St. Petersburg indicate Matska's business was located in downtown, at Kabinetskaya Street, No 12. He used barrels by Bernard and by Belgium's Cockerill, and also English barrels from Kilby. Matska produced about 15 to 20 guns a year, and his total production is estimated to be 380. All of his guns were beautifully finished in the smallest details and were durable and reliable. Matska was also the only Russian gunmaker who made a version of the Holland & Holland Paradox.
In 1712, during the reign of Peter the Great, the weapons school and gunmaking factories had been founded in Tula, a city and region about 200 kilometers south of Moscow. Around 1897, a rifle made by Matska was taken to Tula to serve as an example to produce in small numbers. Matska was important in the technical history of gunmaking in Russia and it is therefore not surprising that the State History Museum in Moscow has five of his guns in its armory.
Ivan Alyoshkin and Konstantin Petrovich Maslov
After the Matska's death 1907, Ivan Alyoshkin and Konstantin Petrovich Maslov continued the tradition and craftsmanship of the St. Petersburg gunsmiths. Both were students of Matska. From what little is known with certainty about Alyoshkin, he was listed as a supplier of the "Imperial Society of Hunting"—which consisted of Russian noblemen and those with close ties to the Czar and his entourage.
Alyoshkin's guns sold quickly because they were made to the highest levels of European craftsmanship. The museum in Moscow has a 20-gauge gun—serial no. 94—with barrels made from "Poldi" steel.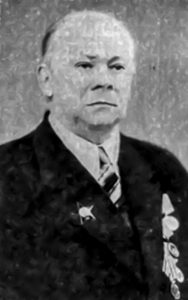 Konstantin Maslov was born in 1871. He worked as an apprentice with Matska from 1894 and after the latter's death was became his successor, taking over Matska's studio and shop. Maslov built guns in the traditional way as trained by his teacher, and even numbered his guns beginning with the last serial number of Matska, the last known Maslov gun being no. 456. A "best gun" by Maslov in 20-gauge can be seen in the State History Museum in Moscow. After the Revolution of 1917, Maslov continued working at the same address, but after 1930 repairs of weapons appeared to be the main activity and apparently no new guns were produced. Maslov lived to 95 and died in 1975.
The contribution of the St. Petersburg gunmakers to the Russian arms making school remains unsurpassed. The best of their guns could stand next to those of famous British makers—makers that clearly served as inspiration—and are equal in quality and finish. Fortunately, at least some of their legacy has been preserved for future generation in the Russian museums.
Epilogue:
Thanks to my friends in Russia I have been fortunate to hunt with shotguns made by Matska and Maslov. When I first saw them, I was surprised by their finish and high quality. Production of both makers was very small and collectors in Russia today are prepared to pay big money to own a gun made by them. Compared to Belgian or British sidelocks of the same era, they will be more expensive in Russia. As a weapons expert, I found that their locks were built on the Rogers patent (the Webley & Scott Premier has). I suspect that there were sidelocks made on the Holland & Holland-type system, but I have not seen them.