This story was written by Richard Brewster and published in the Shooting Sportsman under the title "A Father-Son Purdey":
Many thanks to Shooting Sportsman!!!
FATHER-SON GIFTS
by Richard Brewster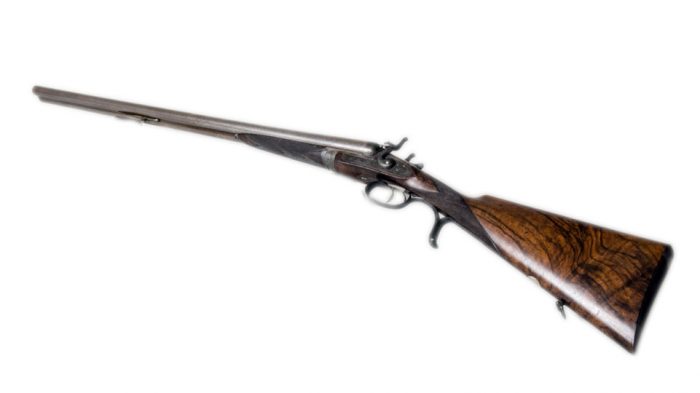 I have given my son Scott two side-by-sides, an L.C. Smith for his 21st birthday and a Nitro Lefever, which I initially loaned him five years or so ago when we were hunting woodcock in the woods and thickets along the Delaware Bay. After the second day of beautiful fall weather and a fair share of woodcock in the bag, I gave Scott the Nitro Lefever. It was the second time the Nitro had been a father-son gift. Purchased for dovehunting in Texas in 1925, it was given by the 1925 buyer to his son, my school-friend Jarv, who passed it along to me before I gave it to Scott.
Because Scott's wife Amelie was born and raised in Germany, growing up on a farm near Hanover, I could not resist the opportunity to bring home a unique 12 gauge hammergun ordered from Purdey in the mid-1870s by the last King of Hanover, as a gift for his son, Prince Ernst Augustus of Hanover. Every day on her way to school inHanover, Amelie passed a statue of the King's father, Ernst Augustus I, the son of George III of England, who lost his 13 American colonies in the American Revolution.
With Amelie's connection to Hanover, how could I do anything else except go for the Purdey when it was offered to me? Its father-son story unfolded after a little research, added to what its previous owner, Niles Wheeler, had passed along to me. Purdey's records show that the hammergun was completed in 1877 for the Duke of Cumberland, also the Duke of Teviotdale, Earl of Armagh and King George V of Hanover. Until the birth of Queen Victoria, King George V of Hanover was also second in line to the British throne. George V was in fact the last king of Hanover, and lived in exile in Austria after his alliance with Austria in the 1866 war with Prussia, which delivered a crushing defeat to Austria. In exile King George V kept his British royal titles andwas buried at Windsor Castle with the good graces of his cousin, Queen Victoria, after his death in June 1878.
For me, a key aspect of the Purdey's father-son story is that by the time King George V ordered the Purdey, he had been totally blind in both eyes for decades. He could not see to shoot and did not order the gun for himself. In the gold stock oval, "E.A.", the initials of his son, Prince Ernst Augustus, appear in the center of the crest of the Knights of the Garter. Ayear after the gun's completion, the blind King died and PrinceErnst Augustus inherited his English, Scottish and Irish royal titles. In the same year, 1878, Queen Victoria made Ernst Augustus a Knight of the Garter. Ernst Augustus was the last Hanovarian prince or king to hold royal titles in England, Scotland and Ireland.
The gun's unique features are a message from father to son to remember both the English and German heritage of the Hanovarian dynasty. The gun is a beautifully made and superb handling Purdey. It also has a very German or Austrian engraved steel pistol grip, made to order and fitted to the stock by Purdey in the Continental style.The gun has swivels on the barrels and stock, so that it could be carried with a shoulderstrap in the Continental fashion. In short, it is a shotgun made in London for a German prince. It is choked full and full and marked "3", being the third of three matched guns ordered by King George V for his son.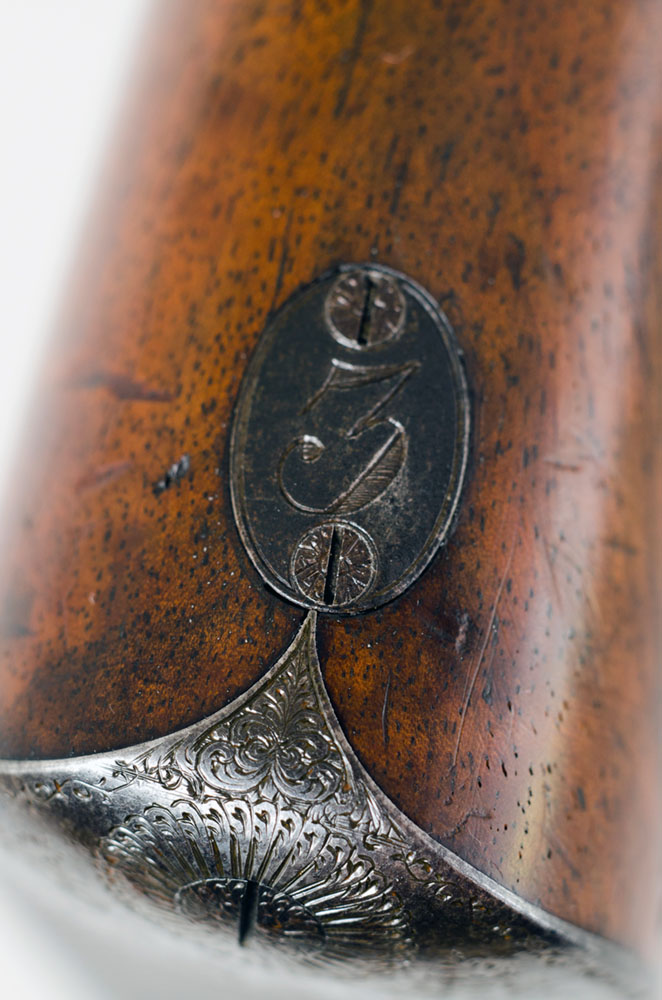 Not only a unique father-son gift, the Purdey reeks of the history of sporting guns and Europe's past. The top rib of the barrels is marked with Purdey's address in 1877,314 1/2 Oxford Street, the former address of Joseph Manton, and therefore the most famous gun-making address in England for decades before James Purdey took over the lease "as a favor" to his former employer, Joseph Manton after Manton went to debtor'sprison because of his gambling losses. The Prince's Purdey also marks the peak, decline and fall of the Victorian world in which crowned heads of Germany, England andRussia were all cousins or nephews of Queen Victoria. Just as King George V of Hanover lost his kingdom by his badly chosen alliance with Austria, Prince Ernst Augustus lost his English titles in 1915, after his equally disastrous support for Kaiser Wilhelm II in World War I. Prince Ernst Augustus died in 1923. His beautiful Purdey "#3", a relict of this bygone era of history, has fallen into my fortunate hands. It mounts with perfect balance and shoots for me as well as any gun I have ever handled. I only wish it could talk about the fabled Victorian and Edwardian hunts in which Prince Ernst Augustus put his matched Purdeys #s 1, 2 and 3 to the test, perhaps occasionally thinking "Thank you, Dad," or, given the era, "Thank you, Father," as he dropped a double, or perhaps even a triple, on a moor with princely friends from long ago. The Purdey will once again be handed down from father to son, following the L.C. Smith and the Nitro Lefever, in a much later generation in a very different world. The empires of 1877 are long gone, but, oh, the Prince's Purdey # 3 still shoots like a dream.