A typical Belgian Double Rifle, made by Jules Thonon, Liège. The caliber is .405, the barrel length is 68cm. Thanks to
JJ De Smedt
for the pictures of this fine DR.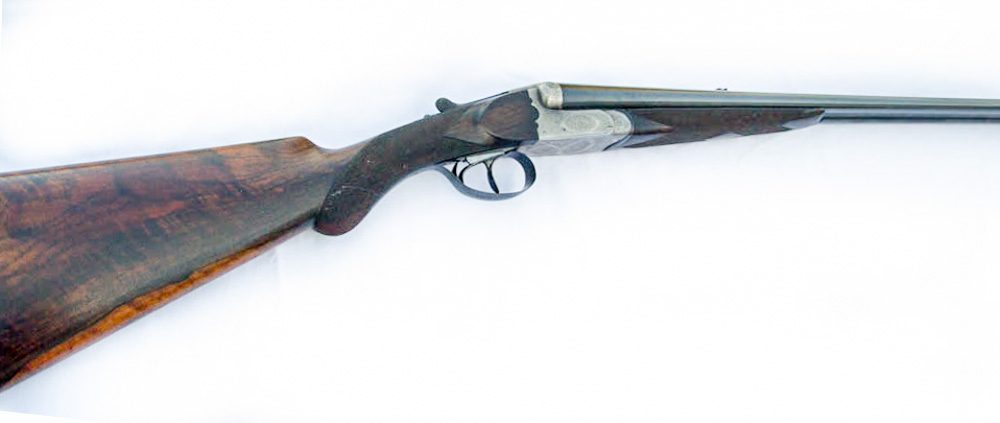 Jules Thonon was a best gun maker, established in Liège between 1908 – 1925. He built his Double Rifles the same way as his Double Guns. That means: Pointable and well balanced. The Belgian hunters were famous for shooting wild boars with this kind of rifle on their Drive Hunts in the Ardennes Forests. I think, there is nothing better to shoot with on short distances in thick forests on fast moving game! By the way, this Thonon shoots a 4 cm cercle on 50 meters.
How good these rifles work, is remembered by our friend Rich from the USA. The pictures of this rifle brought back good memories to him:
Fifty years ago (good grief!) I had a rusty old double rifle in my hands in the Belgian Ardennes (nothing approaching the splendid rifle you just sent pictures of). But I have good memories of a December weekend with my long-gone Belgian father-in-law in a rainy Belgian forest with shooters in green full-length Loden coats, a bonfire with stew and a red wine in the middle of the day, drives for the boars in the morning before lunch and again in the afternoon after the stew and red wine. My rusty borrowed double rifle and me got three boars, two adults and one "marcassin", which meant I had to buy everybody champagne at dinner in the local inn at the end of the day. It was fun. The pictures brought back some good memories of a half century ago! I think my rusty double was a .405.