There are different kinds of Gun Aficionados under the sun. Some are collectors, interested in technic, history or traditions. Others prefer to do with their guns what they are made for – Shooting!
One of these hunters is Jussi from Finland, who loves to escape into the rich wilderness of his scandinavian homeland with his german Drilling from the 1930s. During these days and weeks his vintage Anson Drilling, imported by Stockman Oy, proves it's best quality and usibility. The 65cm barrels made of Roechling Stahl in caliber 12/70 and 6,5x52R allow wing-shooting as well as capturing Roe Deer and Beaver on longer distances. What Jussi appreciates most, is the excellent performance of the Drilling, swinging as nice as a fine gun, bringing him a good bag of Capercaille and Black Grouse.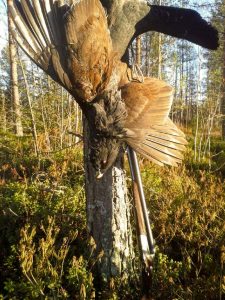 Never walk alone…
…in the freezing cold and enjoy a beautiful nordic hunting day!