RED ALERT
When shotgun shooters see red, this is not a cause for concern but rather for joy. Because red is the favourite colour of the Italian premium shotgun manufacturer Perazzi.
THE COMPANY
Not far from the traditional Italian armoury of Brescia are the production facilities of Perazzi. The small town of Botticino Mattina is also a Mecca for shotgun enthusiasts from all over the world, especially for clay pigeon shooters.
IN THE PRODUCTION LINE
Transparent factory – the production of high quality shotguns is also open to the interested clientele. Those who pick up "their" Perazzi themselves should not miss a guided tour of the ultra-modern production facilities.
STOCKS MADE TO MEASURE
First, however, we will go on to the stock adjustment, which is included with every shotgun at Perazzi. The measurement is the responsibility of Fabrizzio, a master of his trade.
FINE WOODS
Afterwards it goes to the stock wood storage.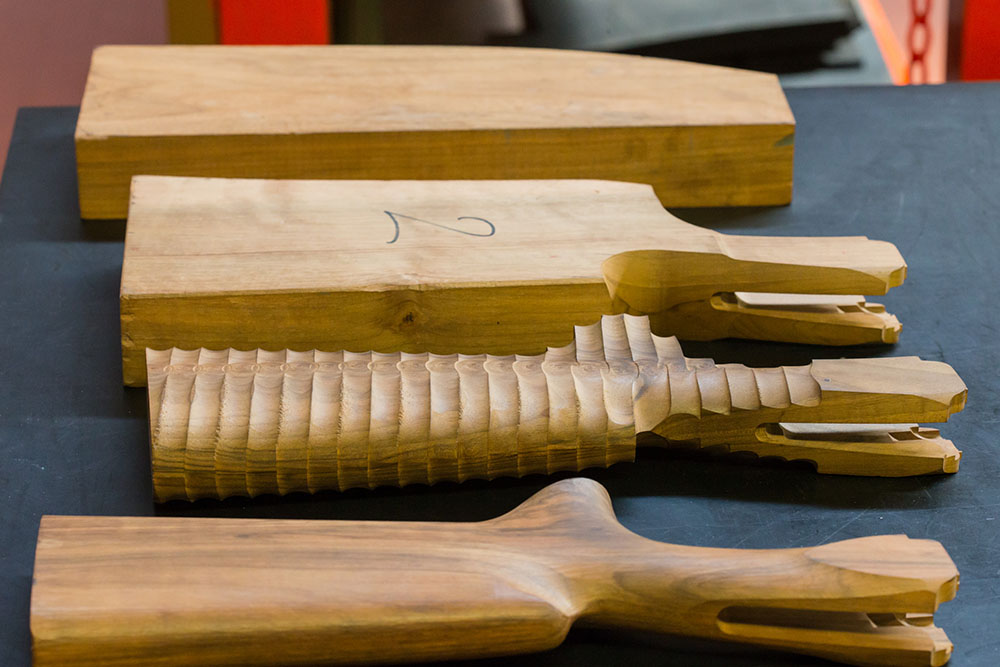 FINALE FURIOSO
ROBOTS
The basis for the Perazzi shotguns is created by the most modern robots and machines. Computer-controlled systems cut and mill the individual components from the solid with the highest precision and perfection.
INDISPENSABLE: THE HUMAN BEING
IT'S ALL IN THE MIX
It is this combination of the most modern machine production and traditional craftsmanship that distinguishes Perazzi above all. It is thanks to her that the company's shotguns have often been state of the art for decades. Perazzi is still considered to be the non plus ultra, especially among competitive shooters. The number of medals won at the Olympic Games and other competitions is unprecedented and has contributed significantly to the brand's legendary reputation.
PERAZZI GAME GUNS
Of course, Perazzi does not only build sporting guns, but also game guns. The increasing spread of the over under, also for hunting, has led to it becoming more and more popular in recent years and even in England it is now considered to be suitable in many places. Perazzi also makes the heart of every hunter beat faster when it comes to hunting shotguns.
NOMEN EST OMEN
Perazzi is a family business. Founded by Daniele Perazzi, the spiritus rector of the successful shotguns, today his son Mauro and his sister Roberta are in charge of the company. With great commitment, knowledge and passion they continue their father's legacy.