By Miles Gilbert
It is a short walk from Buckingham Palace to 26 St. James' St., London, the address on the rib of the  lovely percussion stalking rifle that is the subject of this article. The name is listed in British Gunmakers by Neal & Back. "Charles Jones took out patent N. 6394 in 1833. In 1838 his address was 26 St. James St." His trade label appears on page 123 of Gunmakers of London by Howard Blackmore and a short entry reads; Charles Frederick Jones, son of John appr. John Mason, 1814 Free of Gunmakers Co. 1822 Gunmaker near the Helmet, St. Katherines, 1822; Pennington St., Radcliffe Highway, 1829 Patent and General Gunmaker, 26 St. James's St., 1838-42. Factory at 16 Whitall St. Birmingham, 1831 – 43. Also used 32 Cockspur St. London. Granted Eng. Pat Nos. 6394 & 6436 (Enclosed waterproof percussion lock), 1833". It's very nice to have generous friends with far better gun collections. When I was blessed to get permit number 17 of 30 for a depredation elk hunt in Unit 3B North only 14 miles northeast of my home in Show Low, Arizona for August 1-14, 2014, I brashly asked my friend of 34 years Ron Peterson in Albuquerque if he would lend me a suitable antique muzzle loading rifle for the hunt. He sent me home with the Jones and a box of .535 round balls and the information that long time friend and antique gun crank Maurice Mudge had determined that the gun was accurate with a load of 80 grains of FFG and a .015 lubed patch. Experimentation with Goex, Elephant, Kik and Clean Shot all showed that it would shoot 6 inches high and six inches right out of a clean bore. Second and third shots out of a dirty bore brought the ball back left to near point of aim but still six inches high from 40 to 65 yards, a self imposed limit with my 71 year old unaided eyes.
The load finally settled on involved 80 grains of FFG Clean Shot, two cardboard and two .125 felt wads under a wonder lubed .015 patched .535 ball. If it's working, don't fix it. Because ignition had not always been reliable a few grains of FFFFG were packed under the nipple. Those of you who mess with black powder know that it likes to be compressed, so the ignition chamber was filled and the powder was actually compressed by screwing the nipple back down on it. This 8.75 pound, straight grained, half stocked, pistol gripped Jones has a 14.75 inch length of pull, a 29.75 inch long barrel that is 1.142 inches at the breach and .965 inches at the muzzle. The bore measures . 545 x .572 inch with ten narrow lands and an equal number of wider, shallow grooves with a rate of twist of one turn in 46 inches. The bar action lock is equipped with a functioning single set trigger. The patent breach has what appears to be a platinum blow out plug. The fore stock is nicely finished off with a horn tip. All the furniture is iron.
A lovely cap box graces the pistol grip. Eyes for sling swivels are placed just back of the pistol grip and on the front ramrod pipe. The rod itself is a hard wood equipped with a brass loading cup that is .509 inch in diameter adjacent to a horn tip while the other end is .479 inch diameter and houses a bullet worm. Fortunately it has not been needed by me.
The sparse engraving includes a boar on the lock plate. Elsewhere it has tasteful scroll that is quite typical of the 1830-42 period. Which brings us back to Prince Albert's walk to Number 26 St. James' St. He married Queen Victoria on February 10, 1840. First cousins, both born in 1819, she was from May to August some three months older than he was. They had met in 1836 and she had decided upon him as a suitable spouse soon after ascending the throne in 1838. They occupied a number of residences, including dear old Osborne House on the Isle of Wight in the south, Windsor and Buckingham in London, then all the way north to Blair House and Balmoral Castle in Scotland. The latter was completed in 1856 and it may have been on a trip there that the Prince Consort added another maker to his list of those with Royal Warrants. While researching Thomas Kennedy (DGJ Winter 2010), I had found a few others marked Maker to HRH Prince Albert, including George and John Deane; James Dalziel Dougall; William Greener; Charles Lancaster; John Manton; William Moore; Moore and Harris; and finally Paton and Walsh at 44 George St., Perth. One just does not arrive at Balmoral without passing through Perth. Sportsman and gun aficionado that he was –  what could be more natural for him than to stop in and browse a gun shop?
The Paton and Walsh I've inspected is a percussion double rifle of deer stalking caliber, and Prince Albert may have used one like it in Scotland. An entry in Lady in waiting (to Queen Victoria) Channing's diary for September 21, 1844 mentioned that the Prince Consort had shot a stag from the dining room window at Blair House while the Queen was looking at it from a window in another room. The Charles Jones rifle is certainly adequate for red deer and the similarly-sized American elk.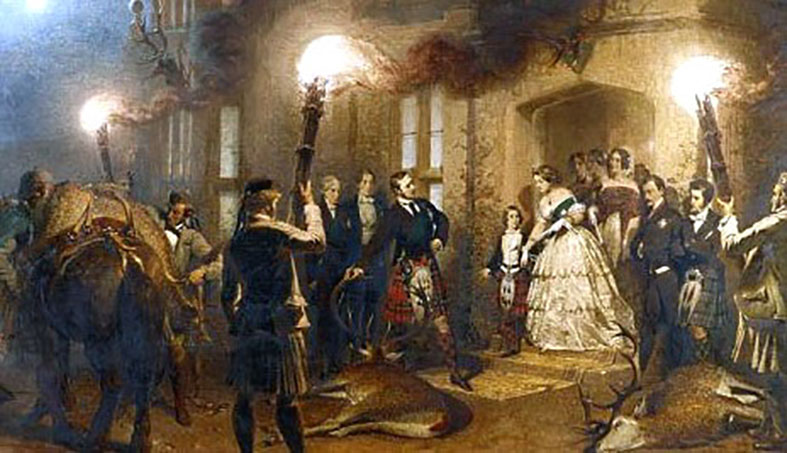 According to those they live among in the area of Bourdan Ranch, White Mountain Estates and the Silver Creek fish hatchery, there are far too many elk for there to be safe travelling, on the roads after dark. On the way to hunt both mornings, I encountered a massive antlered bull with a satellite bull along with numerous cows and calves either side of mile marker one just north of the intersection of Bourdan Ranch Road with Highway 60 at 3:15am. As soon as the hunt permit had arrived in the mail, I began visiting with fish hatchery manager Ken McGowan to learn when and where elk had been observed on the property. He had trail cameras set up in several locales to observe illicit fishing in the off limits areas. Elk were seen on camera beginning about 9:30pm and until about 4:30am. On one scouting trip south of Silver Creek, I bumped into a fat cow at 7:45 am. Thus encouraged, I set up a tree stand in the immediate  vicinity. Subsequent scouting following heavy rains showed no recent activity, so I scouted on the north side of Silver Creek and found several well used trails crossing that area. A second tree stand was placed near an intersection of elk trails and subsequent preseason scouting showed frequent use of them.
Who knows how many times I dozed off the first morning of the hunt! Up at 2am and in the stand by 3:30 I was startled awake by a shrill coyote yelp just behind and a few yards west of the stand at 4:05. Someone fired a shot west of me at 5:14 and another shot rang out to the east at 6:36. Nothing showed by 8 am, so I headed home for breakfast and a nap. The second morning was quiet except the coyotes were further off and didn't begin howling until 4:30. It was light enough to shoot again by 5. At straight up 6, I saw movement out of the corner of my right eye. It was a young cow elk peering past a juniper. When she turned and looked back over her right shoulder, I squeezed the trigger and silently cocked the hammer, easing the rifle forward off my lap and up onto my shoulder so that if she continued straight ahead, there would be an opportunity to shoot. Preseason viewing from the tree stand with a range finder indicated that the tree nearest the trail she was on would put her right at 40 yards.
Cool, moist early morning air seemed to congeal the cloud of smoke that hung between me and the target, but when it cleared, she was down and had bled out from a high lung shot by the time I got down and over to her. Knowing that the gun shot 6 inches high escaped my mind and the shot went higher than was intended. Subsequent inspection showed that the round ball had taken out about two inches from adjacent ribs and passed all the way through to impact the inside of the right shoulder. The Charles Jones rifle had harvested another fine game animal –  and I think that Prince Albert would have approved.
.