The story of a famous London gunmaking brand, founded more than two hundred years ago and its rebirth in modern times.
In 1808, gunmaker William Moore started his business in London, having worked with Joseph Manton initially. His future partner, William Parker Grey, had been the manager of Joseph Manton's gun company. Since 1820, Moore & Grey became the synonym for bespoke London best guns. King William IV appointed William Moore in 1836 as gunmaker ordinary, and William Moore & Grey continued to manufacture unique shotguns, rifles and pistols for Prince Albert and other distinguished clients. Prince Alberts pair of shotguns by William Moore is found at the Royal Collection in Sandringham today.
The business expanded – also with a partnership in Birmingham and the production of exclusive shotguns, express rifles and pistols was broadened: William Moore & Grey also retailed Tranter revolvers, Sharp's patent derringers, Webley revolvers and Lee Metford sporting rifles.
Famous gunmakers like Henry Atkin or Frederick Beesley worked for William Moore & Grey before establishing their own renowned companies. In the Victorian times, gunmakers had the ambition to manufacture a gun that would last forever. Queen Victoria would receive up to ten personal letters per day, and the world was clearly different.
Today, William Moore & Grey Ltd. focusses on a limited production of around 12 guns per year. In line with the historic legacy, over and under and side by side shotguns, express rifles and bolt rifles are made to clients' specifications. But also, some time-honoured Webley revolvers are refurbished and retailed, bearing the classic William Moore & Grey engravings. The production of guns is handled and coordinated by J.Roberts & Son. Paul Roberts, legendary gunmaker, hunter and former owner of Rigby's, ensures that the tradition of William Moore & Grey is living on in reliable modern guns, ensuring the ambition of durability of Victorian times. "The William Moore & Grey bolt rifles are manufactured by us in England and reflect the grand tradition of best big game rifles. They are made to clients' individual specifications and are available in a broad variety of calibres" explains Paul Roberts, honorary President of William Moore & Grey.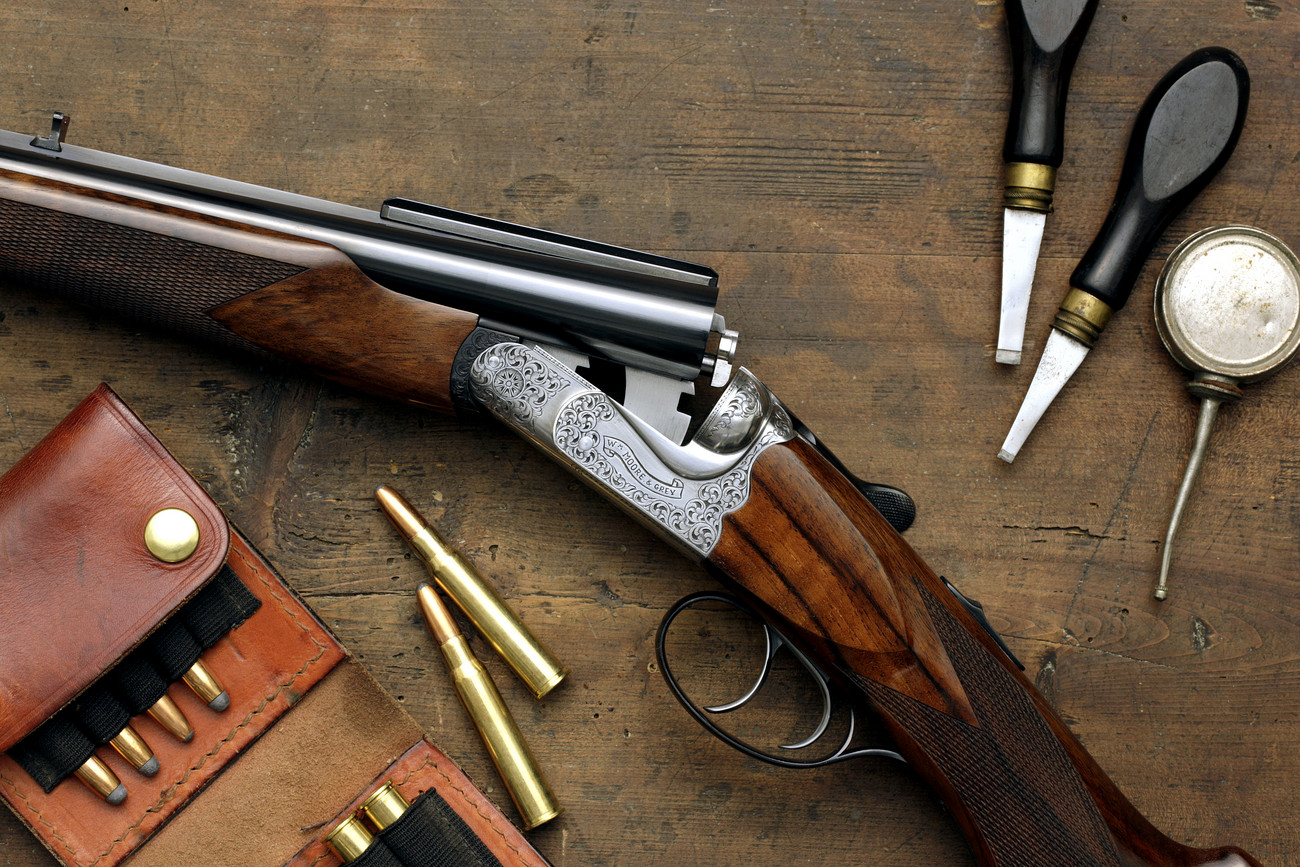 And William Moore & Grey Ltd. is also a compelling and modern company supporting young talents. Olympic Skeet shooter and William Moore & Grey brand ambassador Faye Wills will use a new sporting shotgun designed specifically for female shooters from 2019 onwards.
"We cannot focus just on the past. Whilst the collection of William Moore & Grey guns held by the WMG Trust is a fountain of inspiration, we are also keen to encourage young shooters and female shooters to use our new guns." says Michael Reiss von Filski, Chairman of William Moore & Grey. The company combines hence the tradition and legacy of the past by a very limited and bespoke production together with a state-of-the-art approach. It doesn't surprise therefore that William Moore & Grey has more than 20'000 followers on Linkedin and on Instagram, who enjoy posts of vintage and new guns by this innovative and traditional gunmaker.
Prices of William Moore & Grey guns
Side by Side Shotguns from £21,000
Over and Under Shotguns from £5,000 – £25,000
Express Rifles, 8mm IRS from £10,000
Bolt Rifle, different calibres from £12,000
Webley Revolvers from £2,800