Once upon a time there was an old Mauser 98 action. It originally was made for military purposes by the Deutsche Waffen und Munitionsfabriken DWM. After WW II, a small German factory made a hunting rifle for german wholesaler Alljagd out of it. In those years converted Mauser 98 were the bred and butter guns of the german hunter and there were more than enough parts available: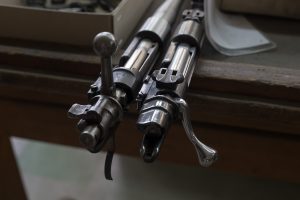 My Mauser got a short barrel in .308 with a special rib. It was not an expensive gun and I bought it as a student for small money, adding a second hand Zeiss 1,5-6 x36 scope. The following years I shot a good deal of roe deer and wild boar using this simple hunting tool. Later a Blaser R93 straight-pull repeater became the object of my desires and the Mauser remains in the safe. But some years ago my wife made her hunting license and soon discovered the R93 as her favorite rifle, because of it's easy handling and weight. So I had to look for a substitution and took my old Mauser again. It was checked up by a gunsmith, who told me, that it was a solid piece, made by Waffen Velser, a good gunmaker in the Eifel region, and worth to be refurbished.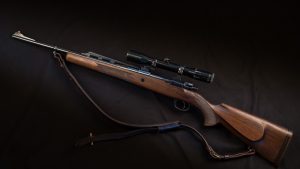 Two years later I made a reportage about custom gunmaker Waffen Velser . On my first visit I discovered, that my old Mauser was made once by his father, who promptly showed me the entry in their Gun Journal of 1989! Short after this, I fell in love with a nice Mauser Stutzen, standing in the rack. Visiting the workshop for a second time, I asked Michael Velser if he could make such a Stutzen out of my old rifle and he nodded. Some month later, just in time for the driven hunt season, my new old Velser raises as Stutzen from the ashes. What a joy! The shooting results are to my whole satisfaction. Mounted with an additional "Doctersight" red dot sight, the rifle swings like a well balanced gun. Today I look back at some good hunting seasons and the Mauser has become my number one rifle for all purposes.
In the white:
…and ready to go with Doctersight:
…or Zeiss Scope: